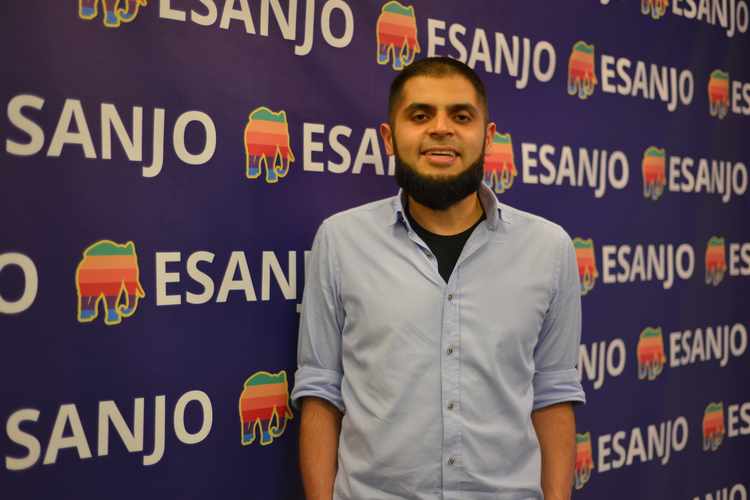 Omar Kassim backs away from blockchain-based real estate venture, citing lack of regional infrastructure
Esanjo's founder Omar Kassim. The new start- up leverages block chain technology to facilitate real estate transactions
The founder of the JadoPado e-commerce platform has revealed plans to launch a cryptocurrency exchange.
Omar Kassim, who sold JadoPado to regional e-commerce giant Noon last year, told Zawya the new exchange will be known as BitPado and that it will "have operations in numerous jurisdictions, with at least some of it being based out (of) Dubai".
In July last year, Kassim told Zawya he planned to pursue a venture that would use blockchain technology to allow for partial ownership of real estate assets. While the company he founded, Esanjo, still exists and has made investments in other ventures, he told Zawya in a telephone interview on Monday he was no longer pursuing his plans.
"I feel like the infrastructure that we need from a wider region perspective isn't in place to actually allow us to create this asset class – essentially where you could be an alternative to a traditional REIT (real estate investment trust)," Kassim said.
He said that he "kept thinking about the space and how we would go about doing something in the crypto space", which led him to the BitPado idea.
Kassim declined to put a timeline on when a potential exchange might open, stating that "there's a long road ahead of us at this point".
Dubai already has two cryptocurrency exchanges – BitOasis, which was set up in late 2014 by Jordanian entrepreneur Ola Doudin and Palmex, which was launched last week by the Saudi owner of a start-up known as Arabian Chain, Mohammed Alsehli.
Despite this, Kassim said that he thinks there is room for another player in the market. "I just don't think there is enough infrastructure in the region," he said. "Given the wider region, whether you look at markets across Africa, or you look across South Asia, the subcontinent etc, there isn't enough infrastructure for people to be able to participate in the space, understand the space and go from old world to new world.
Hype cycle
Cryptocurrencies have grown in prominence over the past 12 months, due to the dramatic rise, and recent fall, in the value of the most famous virtual currency, bitcoin. A year ago, bitcoin was trading at just over $900 on the Bitsamp exchange, and rose to more than $19,000 in December. In recent weeks, however, it has dropped back due to fears of a potential crackdown on cryptocurrency trading by regulators in South Korea and elsewhere. On Tuesday, it closed at $10,851 on the Bitsamp exchange.
Kassim pointed to a measure used by IT consultancy Gartner known as the 'hype cycle', which seeks to measure the amount of noise surrounding potential new technologies compared with their long-term viability. He said that "we're at the top of the hype cycle for crypto(currencies) at the moment".
However, Kassim said he believed in its long-term benefits.
"I think the fundamentals of what the technology enables us to do from a financial services base is going to have a significant impact," he said. "My thesis is that this is the first time in humanity's history where the barrier to participation in capital markets is essentially a phone and the ability to access the Internet. And I think that's extremely powerful."
Kassim said he felt that many of the objections being raised over cryptocurrencies are similar to those levelled at e-commerce when he was setting up JadoPado.
"When I think about it from a personal context where e-commerce was 7-10 years ago, it's the same sort of problems around payments and how do I get people to trust it, and no supplier wants to supply me. All of those same problems seem to exist in the crypto space again where no banks want to deal with it, there are regulatory challenges. All of those problems feel like they are the right set of problems to solve."
Regulatory challenges
Research published by accountancy firm Ernst & Young found that 10 percent of all of the money raised through "initial coin offerings", or new digital currency launches, has subsequently been stolen, Reuters reported on Monday. It estimated that more than $400 million of $3.7 billion of money raised through launches have disappeared, with phishing attacks being the main cause of thefts.
BitOasis founder Doudin last week told Zawya that she plans to intensify efforts to help regulators in the United Arab Emirates formulate rules for cryptocurrencies.
Kassim said that he had assessed the risks of investing in a sector which could potentially face significant regulatory hurdles, including potential outright trading bans.
"My gut feel says that we've got enough momentum around this space globally," he said.
"I think sure, there's a risk that someone could, not from a banking perspective but from a regulatory perspective, turn around and says 'OK, this is illegal'. That's a challenge, and to me I think that would make operating locally very challenging, but that doesn't mean that you couldn't operate elsewhere, essentially, if you genuinely needed to.
"And my gut feel says that there's just going to be a fundamental shift about how we think about financial services in the future and you need to go through this few years of pain before people come out the other side and collectively start to recognise there's merits to what's happening."
Speaking at a financial technology (fintech) conference in Dubai last week, Nadim Bardawil, a senior associate at law firm BSA Ahmad Bin Hazeem & Associates, said that regulation of fintech sector is required, but that regulators needed to be careful in how this is implemented.
Addressing the Magnifintech7 conference at Dubai International Financial Centre last Wednesday, Bardawil said that as technology use grows in the region, "a lot of the times regulation does not follow".
"Late regulation can have two impacts. Late regulation can increase systemic risk, especially when you are talking about the financial world," he said.
He added that it could also "negatively impact the operations of existing fintech entities which are operating, are successful and are engaging the public".
Baradawil said that there was a need to make sure that any regulation that is introduced balances the two key requirements of allowing innovation to flourish, while also limiting risks to consumers.
"It's a no-brainer…that if we have regulation that is too strict, too restrictive, that we are going to stifle to growth of the fintech industry," he said.