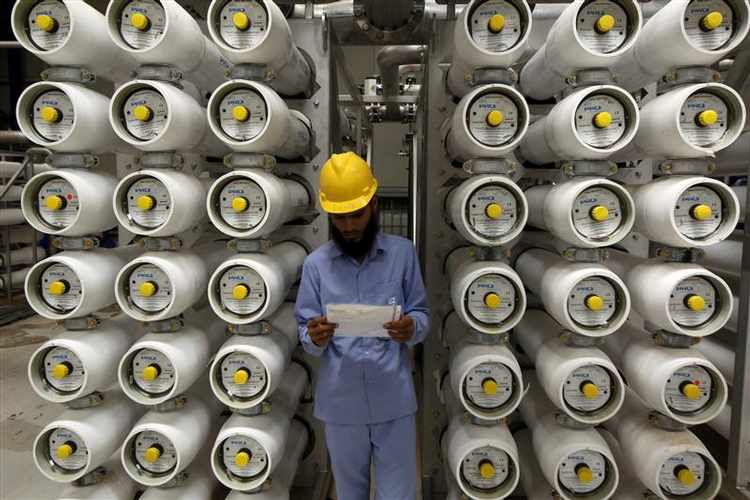 The largest desalinated water investment will be in Jubail 3
Image used for illustrative purpose. A worker stands at a desalination plant, 35 lm south of Riyadh, May 4, 2011.
By Nada Al Rifai, ZAWYA
Saudi Arabia is attracting investments worth $11 billion into large-scale water projects across several regions of the kingdom, primarily in water desalination, a Saudi official has said.
Around $10 billion will be invested in desalinated water projects, and $1 billion in sewage water treatment plants, according to Mohamed S. Al-Abdalla, energy and water sector manager at the Saudi Arabian General Investment Authority (SAGIA).
"These investments will mainly go into five mega water desalination projects and three sewage treatment plants," Al-Abdalla told Zawya.
The largest desalinated water investment will be in Jubail 3, which is an Independent Water and Power Project (IWPP) with a water production capacity of 1,170,000 cubic meters (m3) per day and power capacity of 3,000 Megawatts (MW).
The four other Independent Water Projects (IWP) are at Yebrin, which is a water purification plant with a production capacity of 800,000m3/day, Rabigh 3 (with a capacity of 600,000m3/day), Yanbu 4 (450,000m3/day) capacity; and Shuqaiq-3 (420,000m3/day).
The largest sewage treatment plant planned is in Jeddah and has a production capacity of 500,000m3/day. Another sewage treatment plant will be at Dammam and have a production capacity of 300,000m3/day and a third will be built at the Northern borders (Tarif, Arar, Rafha), with a production capacity of 86,000m3/day.
Last week, the Saudi environment minister announced plans to build nine desalination plants at the Red Sea for more than $530 million and with a total capacity of 240,000 cubic meters of water per day. These small-scale plants aim to increase production efficiency of sate-owned Saudi Saline Water Conversion Corp (SWCC). But these projects constitute a small portion of the total investments in water set for this year, Al-Abdallah said.
Earlier this year, SWCC announced that it had raised its production of desalinated water to five million cubic meters per day at the end of 2017, making the kingdom the largest producer of desalinated water in the world.
Saudi Arabia has started to shift to public-private partnerships (PPP) and to focus on IWP projects to increase participation of local and foreign investors in financing projects.
In December last year, the kingdom approved a 72 billion Saudi riyals stimulus package for 2018, of which 10 billion Saudi riyals were allocated to support projects in the private sector.