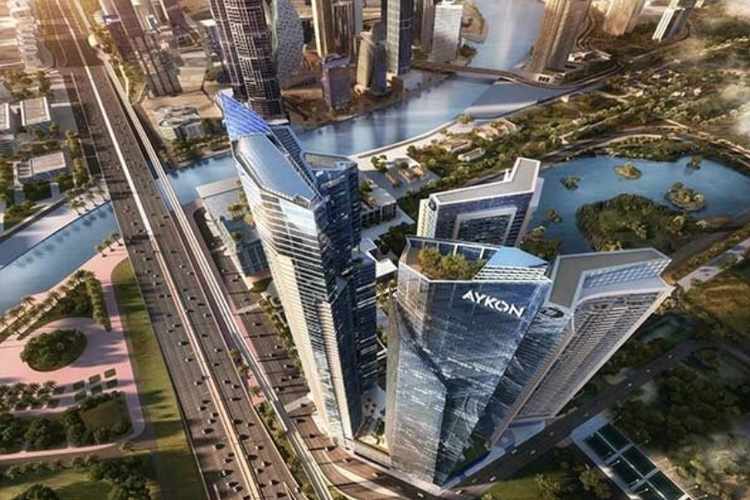 China State Construction to build tower at Aykon City overlooking Dubai Canal.
Damac Properties has announced the award of a 600 million UAE dirham ($163.4 million) contract to build a tower at its Aykon City project on Sheikh Zayed Road in Dubai.
The company has chosen China State Construction Engineering Corporation's Middle East (CSCEC) arm to build the tower overlooking Dubai Canal, which will contain two basement, one ground floor and ten podium levels, as well as a "lifestyle and entertainment" floor, 53 residential floors and a rooftop level.
In a press release announcing the award, Mohammed Tahaineh, commercial senior vice president for Damac Properties, said that "CSCEC is one of the biggest contactors in the world and after careful consideration of various aspects, we agreed to the proposed partnership".
"The towers at AYKON City will be yet another iconic addition to this great city's dynamic skyline, and we are accelerating its development by choosing the right partner for the job," he added
Enabling works for the project are already complete and CSCEC is expected to start main contract work on Thursday. It will use more than 11,000 tons of steel and 94,682 cubic metres of concrete during its construction.
CSCEC is already carrying out a number of other contracts for Damac Properties, including the Paramount Residences at the Paramount Tower Hotel & Residences on Sheikh Zayed Road and a contract package to build serviced apartments at the Damac Hills master planned development off Umm Suqeim Road.
A presentation given by JLL Mena's acting head of hotels and hospitality, Marko Vucinic, earlier this month highlighted the growing influence of Chinese investors on property markets in the United Arab Emirates.
"China has already made a few significant investments into the region," Vucinic told the audience at an event highlighting the outlook for UAE property markets in 2018. "One of the most visible ways in which China is having an impact in the UAE is through the large presence of Chinese contractors in the country."
He said that CSCEC is the second-busiest contractor in the UAE, with $2.95 billion worth of work on its books, putting it just ahead of United Engineering Construction (UNEC) with $2.5 billion. Arabtec remains the busiest contractor, with $3.5 billion worth of work, according to the JLL presentation. Vucinic said that CSCEC is handling around 60 active projects in the country.