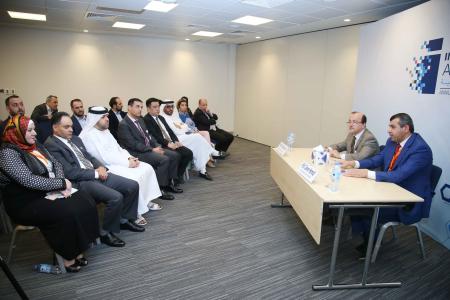 An important scientific research study announced under the title: "Life expectancy and main causes of mortality in the UAE: A systematic analysis from the Global Burden of Disease Study 1990 – 2016"
UAE: The second day of Innovation Arabia 11 continued at the Dubai International Convention and Exhibition Centre, with the active participation of a number of world class speakers, experts and leading industry professionals, while focusing on how innovation is impacting 'Health and Environment', 'Islamic Banking and Finance', 'Smart Learning' and 'Quality and Business Management', the 4 main tracks for this year's Conference and Exhibition.
On the second day, a MoU was signed between Hamdan Bin Mohammed Smart University (HBMSU) and Tsinghua University, Beijing, focusing on two key areas of collaboration including Student Exchange Programs, specifically related to the areas of Entrepreneurship, Systematic Innovation and Faculty Exchange in the area of Artificial Intelligence and Blockchain Technology. The MOU was signed by Prof. Nabil Baydoun, Vice Chancellor for Academic Affairs, HBMSU, and Prof. Hsueh-Yung Benjamin Koo, Director of International Relations of iCenter-Professor of Tsinghua University.
Dr. Mansoor Al Awar, Chancellor of HBMSU and the Chairman of the Conference's Higher Committee, noted that the signing a memorandum of understanding with the Tsinghua University of China is a welcome and positive move, and explained that it plays a key role in enhancing the extensive experience of HBMSU in various aspects related to the models and processes of the smart education system. He added: "These models are compatible with the future requirements of learning, which the HBMSU shares across academic communities in the UAE and around the world–citing both smart models and the advanced teaching methods of these countries. This cooperation is also aimed at forging a global strategic partnership in launching a unified model of learning in the world that changes the current educational system to one that meets the requirements of the next phase of the Fourth Industrial Revolution."
Prof. Hsueh-Yung Benjamin Koo said: "It is my great pleasure to see HBMSU being the first educational establishment to adopt XLP-based knowledge management methodology in the Middle East. It is also my sincere wish that this initiative will bring many extensible capabilities to both individuals and institutions in this era of Artificial Intelligence and big data."