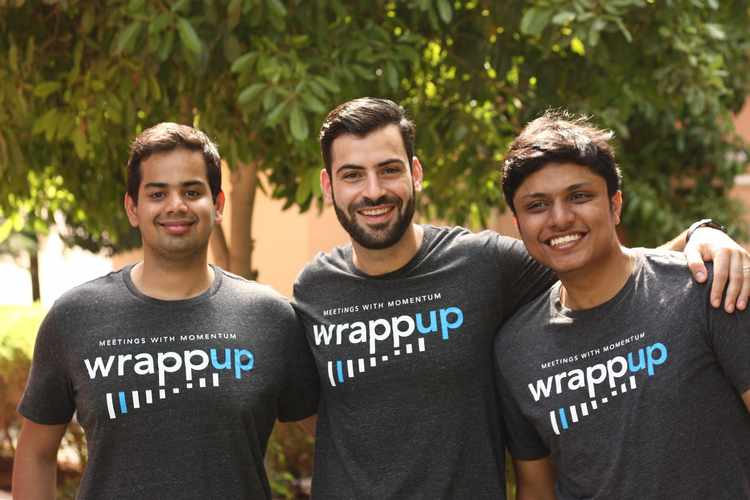 Company's co-founders will all join competitor Voicera.
By Michael Fahy, ZAWYA
A Dubai-based technology company started at a hackathon event three years ago has been bought out by a Silicon Valley-based competitor.
Wrappup, which has been developing an app using artificial intelligence (AI) to record and automatically note action points in meetings, has been acquired by Voicera, which has also used AI to create a virtual assistant for meetings. The terms of the deal were not disclosed.
Wrappup was co-founded by Rami Salman, Ayush Chordia and Rishav Jalan after the three met at – and won – a hackathon event at Dubai Academic City in 2015. During the event, they put together a primitive version of Wrappup in 24 hours and went on to win a prize which included a place at a 12-week accelerator programme in the United States to develop the idea.
The company raised an initial $800,000 in funds from investors including Beco Capital, 500Startups and others in 2016, and was in the midst of raising a new funding round when its partners decided to become part of the enlarged Voicera organisation instead, Salman told Zawya in a telephone interview on Wednesday.
He said that they had met Voicera's founder, Omar Tawakol, 18 months ago and had immediately begun talking about working together, given the overlap between the firms' products.
"Over the course of the last year and-a-half we kept having conversations and it just became so painfully obvious to everyone involved that there was a lot more benefit doing this together than competing," Salman explained.
Voicera had been able to raise an initial $5.5 million in a seed round in February 2017, due partly to Tawakol's track record – he had previously built and then sold an online data management business, BlueKai, to Oracle in 2014 for a reported figure of around $400 million.
Voicera also announced last month that it had completed a Series A funding round which brought the total amount it has secured to date to $20 million. Backers in the Series A round include the venture arms of technology companies such as Cisco, Google, Microsoft, Salesforce and Workday.
Self-correcting engines
Wrappup was devised as an app-based technology for face-to-face meetings. Voicera, meanwhile, had created an Enterprise Voice Assistant (Eva) that could attach itself to online meetings or voice calls to record them and assist via voice functions. Voicera had spent much more of its resources on its core transcription engine, Salman explains, which includes an error correction system using AI that aims to make transcriptions error-proof.
"So we merged the two so that we can start predicting things and error correcting," Salman explained. "The more powerful thing is being able to cover all of your meetings – online and offline – with the same level of accuracy and quality."
Voicera said in a press release announcing the deal that its Eva assistant was now being added to the app, and that the addition of predictive AI to its online meeting service would allow it to automatically identify meeting moments, generate summary emails and provide data and voice transcriptions, making it a useful proxy for those unable to attend.
Tawakol said in the release: "We kept track of Wrappup from the first hackathon award they won and we are excited to have them join the team."