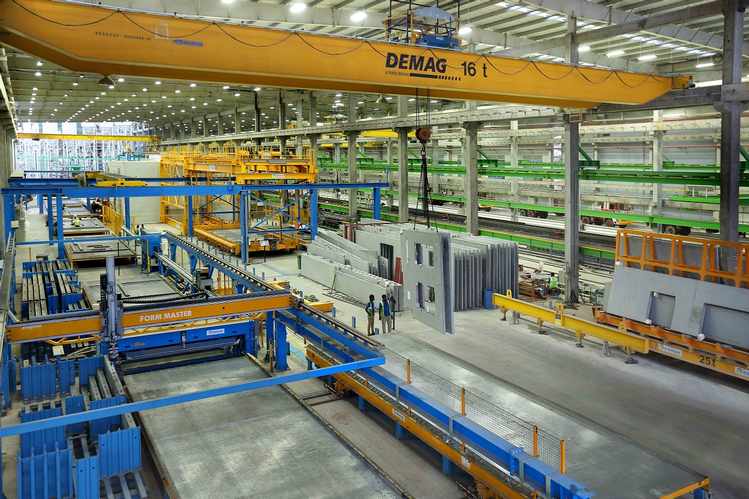 Faizal Kottikollon says KEF Holdings' tie-up with Katerra allows it to instantly become a global player
Dubai-based entrepreneur Faizal Kottikolon has said that a decision to sell his four-year old company, KEF Holdings, to a Silicon Valley-based competitor backed by $1 billion worth of venture capital was motivated more by a desire to see it succeed than any financial reward he received.
Kottikolon, who has already been on the receiving end of one financial windfall after selling his previous company, Sharjah-based Emirates Technocasting to Tyco in 2011, told Zawya at the company's headquarters in Dubai International Financial Centre (DIFC) on Monday that the chance to combine building manufacturing company KEF Holdings with California-based Katerra was "an opportunity of a life".
Kottikollon has received some cash as part of the deal, but has also retained what he described as a "significant" minority stakeholding in the combined venture. He declined to say how big the stake is, and the terms of the deal have not been disclosed. Bhardwaj said that Japanese technology investment giant Softbank remains the company's biggest investor.
Softbank led an $865 million Series D funding round in Katerra through its Vision Fund (in which Saudi Arabia's Public Investment Fund and Abu Dhabi's Mubadala Investment Company are investors) in January this year. Other investors in Katerra include chipmaker Foxconn and Soros Fund Management.
"Softbank owns about 15 percent of the company," Bhardwaj said in the same interview. "The rest of it… There are a bunch of investors, and Faisal is in that list."
The deal has happened quickly. Kottikollon only met Katerra's co-founder, Michael Marks, and the company's Asia president, Ash Bhardwaj, in India two months ago. The day after they were introduced, Marks and Bhardwaj flew to the KEF Infra One complex at Krishnagiri, Tamil Nadu, in southern India, and negotiations began straight after the visit, Bhardwaj said.
"We have a short span or stint in this world," Kottikollon said. "I had a choice when I met Ash and Michael whether I need to take 20 years to be a global player, or I need to come together and become a global player immediately."
Kottikollon said that there are a lot of synergies between the two firms – both of which have been started within the past four years (KEF Holdings in 2014, Katerra in 2015). Each one set about using technology to make construction more efficient, producing integrated building units within factory-controlled conditions that are then assembled on site.
Alongside the fact that each has been targeting different territories, Katerra has developed technology based around timber-framed buildings, while KEF Holdings has mainly worked with precast concrete. Katerra has also predominantly focused on residential buildings, whereas KEF Holdings has built hospitals, malls and other commercial buildings. KEF Holdings has built its supply chain in India, while Katerra has developed its supply lines from China and Mexico.
Even in the development of their operating software, Kottikollon said Katerra's has a strength in architectural design, whereas his firm's models have had a stronger focus on structural and material design.
"So all of this is coming on a single platform and we will have a huge engineering base in Bangalore for the world," Kottikollon said. "And that's the key. For us to set up a plant in the UAE or Saudi Arabia, then it's just a manufacturing base. The entire technology piece will be both from the U.S. and India."
Better together
He cited a recent deal with Tata for 31 new cancer hospitals in India as an example of how the merger made sense, stating that KEF Holdings had initially been earmarked to produce designs for the facilities, but that, post-merger, it had the resources to build them as well and could set up factories in states like Assam and Andhara Pradesh to ensure timely delivery. The contract is worth $1 billion, Kottikollon said, contributing significantly to the combined firm's current order book of $3.7 billion. Employee numbers are also set to increase to 3,600.
"This is an opportunity that has happened because of this merger. We have a larger team, we have larger design capabilities now, investment possibilities. And this can replicate across the globe. Healthcare costs can come down drastically," he said. Kottikollon argued that hospitals currently cost an average of $10,000 per square metre in the United States, $8,000 per square metres in Europe and $5,000 per square metre in the Middle East, but that KEF Holdings' automated processes meant it can build for around $1,000 per square metre.
"What is stopping us? Nothing is stopping us now," Kottikollon said. "Imagine now, if somebody wants to build a hospital in the Middle East, we have the know-how. If somebody wants retail, we have the know-how.
"Now, it's bringing the financial stake also. We have companies like Softbank backing us up, companies like Foxconn backing us up. So there's nothing now we don't have and we can become a global player as we speak."
Expensive and late
An article produced in October last year by management consultancy firm McKinsey on digital innovation in construction stated that "productivity in the construction sector has stagnated for decades", adding that 80 percent of capital projects tend to run over budget, and one in five completes 20 months behind schedule. It argued that investment is being made in technology to improve things, though.
"Construction-technology firms have garnered $10 billion in investment funding from 2011 through early 2017," it said.
A Megatrends study published in April by BMI Research, a Fitch Group company, also predicted that "there will be significant technological integration and disruption to traditional building methods", citing greater use of automation and 3D printers as methods of both reducing waste and tackling labour shortages.
"Developments are being made in areas currently carried out by manual labour, in particular a number of bricklaying robots are in early stages of development, as well as self-operating machinery and trucks with the advent of better driverless technology," it said.
Kottikollon also argued that "an education element" is required to train people in new working methods. He said that an education facility at the initial KEF factory at Krishnagiri is due to open in December this year, and that he hoped similar skills could be developed in the UAE (Kottikollon has links with the American University of Sharjah, where a charitable foundation run by him and his wife runs a scholarship scheme).
"This is an old, traditional industry. How will you change the mindset? Only through the universities," Kottikollon said.
"We are going to tie up with various good universities in each country, impart our knowledge to them so that the new generation can learn quickly, and they will be the change of the industry."