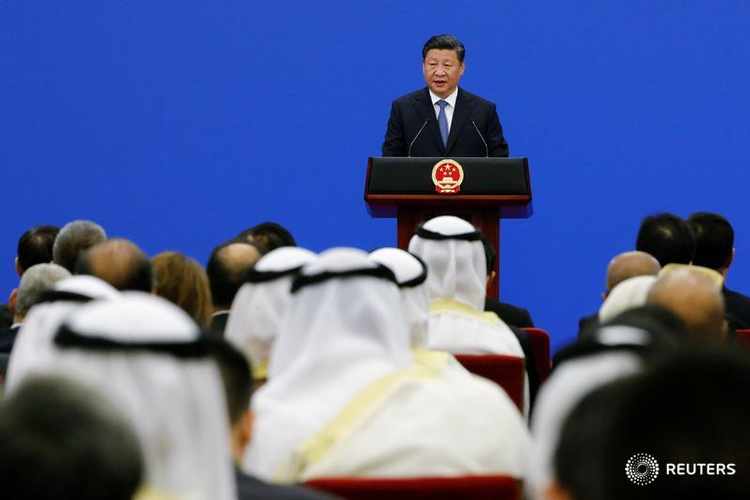 The United Arab Emirates Ambassador to the People's Republic of China has said that he hopes the country will be able to double its trade with China over the next 10 years ahead of a three-day visit to the emirates later this week by China's President, Xi Jinping.
According to the UAE's state news agency WAM, Dr Ali Obaid Al Dhaheri told a UAE media delegation in Beijing that trade between the UAE and China reached $50 billion last year – about 60 percent of which is Chinese trade that is re-exported through UAE ports.
A report earlier this month from WAM put the exact trade figure between the UAE and China last year at $53.3 billion, which was a 15 percent increase on the $46.3 billion achieved in 2016. It said that that direct trade between the UAE and China stood at just below $25.7 billion, or 48 percent of the total, with the remaining 52 percent being directed through free zones.
Al Dhaheri also pointed to the Belt & Road Initiative launched by China in 2013 as a method for strengthening ties between China and several countries along these routes, including the UAE.
China's state news agency Xinhua reported on Saturday that Arab analysts who had spoken at a two-day Arab Economic Forum event in Beirut on Thursday and Friday last week were also upbeat on prospects for trade between China and the wider Arab world.
The Xinhua News Agency quoted the chairman of the General Union of Arab Chambers of Commerce, Industry and Agriculture, Nael Raja Al-Kabariti as stating that the Belt and Road Initiative "has begun work in the Arab world through real projects that reflect the seriousness of the Chinese government".
Speaking at a China-Arab States Coooperation Forum held in Beijing last week, China's president Xi Jinping announced a package of $20 billion worth of loans, plus $1.6 billion in aid to Middle East countries in what he described as an "oil and gas-plus" deal aimed at reviving economic growth in the region, according to Reuters.
Both of the UAE's offshore financial centres are also attempting to build greater links with Chinese institutions.
In May, Abu Dhabi Global Markets announced that it is to open a representative office in Beijing, just weeks after announcing it would set up a 'Belt and Road Exchange' alongside the Shanghai Stock Exchange in Abu Dhabi.
Dubai International Financial Centre has also courted several Chinese banks, and Chinese financial institutions have raised more than $5 billion in debt capital through bonds listed on Nasdaq Dubai.
President Xi Jinping's visit to the UAE is set to get underway on Thursday during the UAE-China Week, which is set to begin on Tuesday, 17 July.