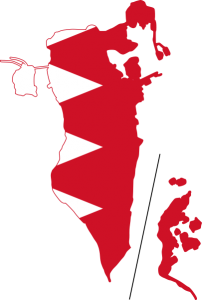 The Chairperson of the African Union Commission (AUC), Dr. Jean Ping, has concluded an official visit to the Kingdom of Bahrain at the invitation of the Bahraini Government.
During the visit which took place from 8 to 9 October 2012, the Chairperson was received at Al Sakhir Palace on Monday, 9 October 2012 by the King of Bahrain, His Majesty King Hamad bin Isa bin Salman Al Khalifa.
His Majesty the King welcomed the Chairperson and his delegation and expressed the hope that the visit would help bolster relations between Bahrain and Africa, on the basis of mutual respect and joint cooperation.
King Hamad highlighted the importance of expanding bilateral cooperation in the economic and trade fields in light of Bahrain's success in investment projects, as well as its laws and legislation providing support and safety to investors.
The King further praised the African Union for its effective role in enhancing African-Arab cooperation and thanked the AUC for its interest in developing relations with Bahrain.
The Chairperson thanked His Majesty the King for the warm welcome extended to him and his delegation and underscored the importance the African Union attaches to its relations the Arab World.
In an earlier meeting with His Royal Highness the Prime Minister of Bahrain, Prince Khalifa bin Salman Al Khalifa, the Chairperson expressed his appreciation to the Prime Minister for his role in promoting regional and international peace and security, and closer relations with Africa.
The Prime Minister said that he was honoured by the compliment which he described as a source of pride that reflects Africa's respect for Bahrain and its foreign policy aimed at fostering regional and international peace and security and boosting international co-operation.
The Prime Minister further expressed support for all efforts to promote co-operation between Bahrain and African countries and bolster political, economic and trade relations between Africa and the Gulf Cooperation Countries.
On his part, Chairperson Ping praised Bahrain's development boom and the Bahraini Government's achievements under the wise leadership of His Majesty the King and His Royal Highness the Prime Minister, which he said have earned the kingdom a leading status in free economies and turned it into a regional financial hub.
Chairperson Ping was accompanied during his visit to Bahrain by an important delegation of Senior AUC Officials, including the Chief of Staff in the Bureau of the Chairperson.
Source: African Union Commission (AUC) – Press Release – 10 October 2012