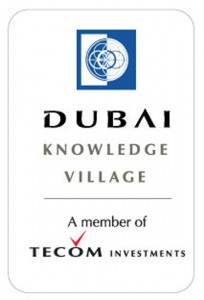 (ME NewsWire):  Dubai Knowledge Village (DKV) kicks off its 7th Training Open Week aimed at providing training opportunities to small businesses and companies in the SME sector.  The week-long event sees more than 50 training and development workshops taking place at the DKV Conference Centre  in support of the  vision to build a knowledge-based economy in the UAE.
The biannual event brings together key training & HR companies and provides them with a platform to communicate their services to the region across a number of disciplines, including HR, Marketing, Sales, Project Management, Strategy, Leadership, IT and many more..
The event is unique in that attendance is not restricted to professionals alone, but is instead aimed at everyone: from those already working and looking to develop their skillset, to students and members of the general public who are interested in learning more about their professional development options.  Workshops range in length from a few hours to a full day.
Dr. Ayoub Kazim, Managing Director, TECOM Education Cluster (which includes DKV), said: "DKV was established with one goal: to support the move to a knowledge-based economy by training and developing the region's talent pool.  The Training Open Week supports this vision by making training and development programmes accessible to everyone.  This is not an invitation-only event, it is not just for those already in employment, it's for everyone.  That is why we do not ask attendees to pay for each workshop they attend, instead we charge a flat-rate entrance fee after which they are free to attend as many workshops as they would like over the course of the week."
The keynote speech will be delivered by Namshi Co-founder and Managing Director, Hosam Arab.  DKV business partners offering workshops include Dale Carnegie Training, Dynamic Learning, Insight Learning, Open Thinking, Eton Institute, Genesis Institute, Trans Gulf Management and many more.