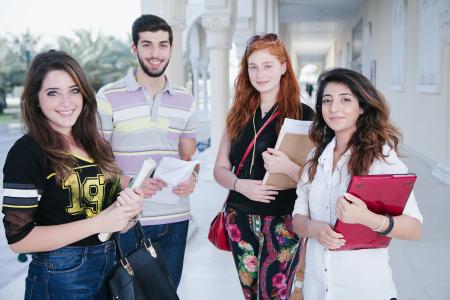 AUS currently welcomes students from more than 95 countries
Sharjah, UAE — For the second year running, American University of Sharjah (AUS) has topped the Times Higher Education (THE) list of universities with the highest percentage of international students globally. The list is widely regarded as one of the most reliable indicators of international student numbers, with the list's data used by THE for its annual World University Rankings.
With international students comprising 84 percent of its student community, AUS has surpassed the other 199 universities included on the THE list, which represent countries including the United States, the United Kingdom, Ireland, Luxembourg, Switzerland and Australia.
AUS is a popular choice for students from all around the world, thanks to its outstanding academic excellence and the broader, extracurricular student experience. Its academic programs, based on the American liberal arts model, provide students with the opportunity to combine in-depth study in professional fields with the breadth of skills valued by employers across the world. Students graduating from AUS earn a highly regarded American-accredited degree without having to travel to the USA. The university's strategic location between Europe and Asia, and its proximity to Dubai International Airport, just minutes away from the AUS campus, are also cited as reasons for the popularity of AUS among international students.
AUS currently welcomes students from more than 95 countries, making its campus well known for its diversity and inclusiveness. Kevin Mitchell, Acting Provost and Chief Academic Officer at AUS, believes that the international nature of the student body at AUS is one of the university's greatest strengths. He says:
"I have seen the significant impact that studying in a multicultural environment has on our students. While many institutions have diverse student bodies, the range of opportunities for substantive engagement with individuals from other backgrounds in classes and through extracurricular activities is a distinguishing characteristic of an AUS education. Our graduates are well-prepared to negotiate difference in the workplace and navigate the complexities that they will encounter in an increasingly interdependent world."
Reem AlNuaimi, who graduated from AUS in 2017 with a Bachelor of Science in Electrical Engineering, says of the university's high number of students hailing from abroad:
"One of the best things about studying at AUS was the opportunity to meet people from so many different backgrounds and cultures. University is obviously very much about acquiring academic knowledge, but my AUS education has also had a transformative effect on me as a person. The relationships I fostered during my time at AUS have allowed me to grow socially, as well as academically. I left AUS a much more confident person than when I started."
Current students at AUS agree that being part of such a diverse campus makes for a positive higher education experience. Uthra Elizabeth Varghese, who is currently pursuing a Bachelor of Architecture degree, says:
"AUS has given me a unique opportunity to learn and work in a community that crosses cultural, ethnic and religious boundaries. This multicultural environment has had a great impact on the way I perceive and interact with different people of the world. The distinctiveness of the institution allows for people to grow and become more accepting and tolerant, which is of paramount importance in the world we live in today."
Kateryna Kadabashy, who is currently pursuing both a Bachelor of Arts in International Studies and a Bachelor of Arts in Mass Communication at AUS, is an example of the diversity seen at the university's campus. Kadabashy is a Ukrainian Palestinian, speaking Arabic, English and Ukrainian. She says of her choice to study at AUS:
"Being part of such a diverse campus is an amazing and unique experience. It means we have so many chances to learn about different cultures and systems of belief from the populations themselves, instead of reading or hearing about it from others. It also helps us as students become more tolerant and understanding of the differences that exist between different people."