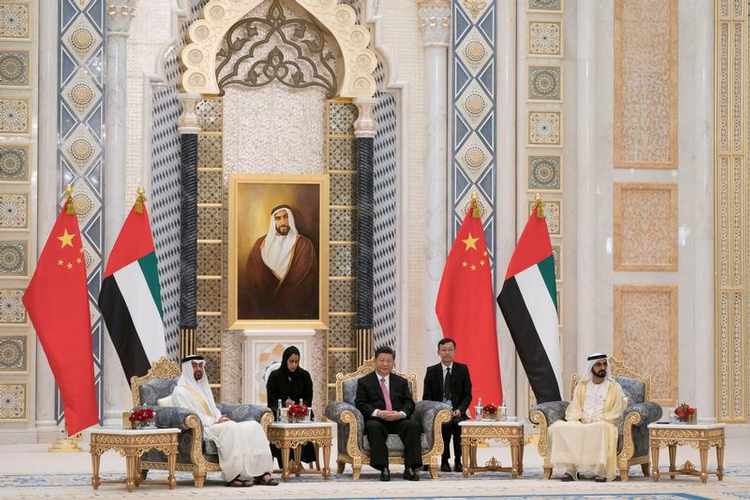 The United Arab States and China have signed more than a dozen business and trade agreements and memoranda of understanding during a landmark visit by the Chinese President Xi Jinping to the UAE over the past three days.
The agreements included an announcement on Friday that a Chinese state-owned financial services company would set up within Abu Dhabi's main financial centre, the Abu Dhabi Global Market (ADGM). The company, known as the Industrial Capacity Cooperation Financial Group Limited, ICCFG, will be the first Chinese firm to set up within ADGM, and will offer "strategic investment and financial support" to Chinese enterprises as part of the Belt-and-Road initiative, according to a statement issued by ADGM.
Dubai International Financial Centre also announced on Saturday that it had signed a deal with Chinese state-owned financier China Everbright Group to explore opportunities relating to the Belt & Road Initiative, and to support its business development in the wider MEASA region, according to a joint press statement. China Everbright has assets of $600 billion, and last year made a profit of $6.16 billion, the statement said.
Abu Dhabi National Oil Company (ADNOC) and China National Petroleum Corporation (CNPC) have also agreed to explore joint business opportunities. ADNOC said on Thursday that it has awarded contracts worth $1.6 billion to a CNPC affiliate.
"Today we have held a big negotiation session with the Chinese President Xi Jinping and the accompanying delegation… We agree on lots of political and economic matters and we have a solid base for projects in the energy, technology and infrastructure sectors… and more importantly a strong political will to start a bigger phase of cooperation and integration," the UAE's vice president and ruler of Dubai, Sheikh Mohammed bin Rashid Al Maktoum, wrote in a Twitter post in Arabic on Friday.
China is the UAE's second-biggest source market for imports after India, according to statistics posted by Trade Map, a trade statistics site developed by the International Trade Centre. Electric machinery and equipment topped the list of UAE's imports from China in 2017, according to Trade Map.
The UAE's economy minister Sultan bin Saeed al-Mansouri said in a press statement on Friday that the total trade deals between the UAE and China is expected to reach $58 billion in 2018, up from $53.5 billion in 2017.
UAE businessman Mohamed Alabbar, the chairman of Emaar Properties also said in a recent interview with CNN that: "Today, China is the factory of the world." Two weeks ago, his online shopping portal noon has announced plans to introduce products from China and Hong Kong on its e-commerce portals in Saudi Arabia and the UAE. Last week, Emaar Properties also announced proposals to build the biggest Chinatown in the Middle East at its Dubai Creek Harbour developmen