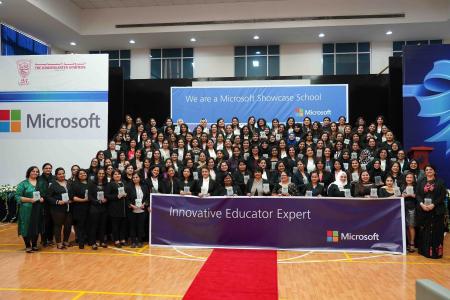 School hosts ceremony in recognition of its 129 teachers certified as MIE Experts – the highest number for a single institution in the region
School's principal becomes first and only certified MIE principal in Middle East
Dubai: The Kindergarten Starters (KGS), part of GEMS Education, has today been recognised for its high number of Microsoft Innovative Educator Experts (MIEEs), with a total of 129 among its teaching staff, including the school's principal, Asha Alexander.
The MIE programme was created to recognise global educator visionaries who are using technology to pave the way for their peers in the effective use of technology for better learning and student outcomes.
"We are delighted to celebrate and recognise the educators today who are leading digital transformation through our Microsoft Innovative Educator Expert program," said Layali Eid, Teacher Engagement Manager at Microsoft Gulf. "Inspiring them to empower their students achieve more, is at the heart of our mission. Microsoft is proud to support GEMS in their efforts as they continue to enable their educators to seek new and innovative ways to incorporate 21st century learning into their classrooms – and help students build future-ready skills to succeed in school, life and career."
The ceremony at KGS, which is an official Microsoft Showcase School, included the presentation of plaques to all 129 MIEEs at the school, as well as speeches from Principal Asha Alexander and representatives from GEMS Education and Microsoft.
Michael Gernon, Chief Education Innovation Officer at GEMS Education, who leads GEMS X, the future-focused R&D arm of the organisation, said: "The GEMS partnership with Microsoft has led to significant benefits for all of our schools. As one of our leading Microsoft Showcase Schools, The Kindergarten Starters has led the way and fully embraced the courses and resources available. They are demonstrating outstanding digital pedagogy, and a clear culture and belief in the transformative power of technology in learning. The school's achievements are staggering – The Kindergarten Starters now has more MIEEs than exist in entire countries, including China, Ireland, Norway, Singapore and New Zealand. It is a testament to the vision and passion of the leadership and educators, and we are delighted to celebrate this truly outstanding achievement with them."
Through GEMS X and the MIE programme, innovation and technology in KGS' upper Primary grades, along with students' innovation skills and problem solving, have all noticeably improved. A large number of innovative teaching approaches that have been introduced to the school have enhanced student learning by developing their enquiry, research and problem-solving skills.
Asha Alexander, Principal and CEO at KGS, said: "Microsoft gave us a free Educators Community platform, and our teachers ensured we made good use of it. Today, we have 129 MIEEs – a feat unparalleled in the Gulf region and perhaps in the world. Becoming MIEEs has given our teachers the digital tools they need to find creative ways to apply digital learning to existing pedagogical methods, inspiring learning scenarios in the classroom and beyond."