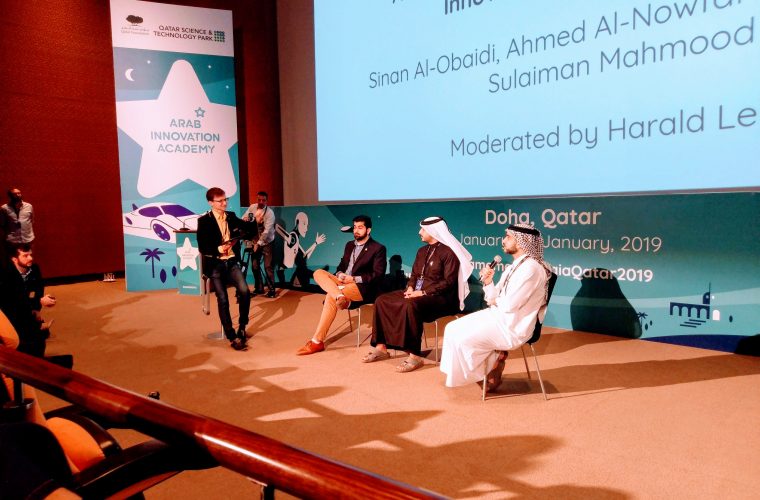 Qatar Science & Technology Park (QSTP), a part of Qatar Foundation Research and Development (QF R&D) and the European Innovation Academy (EIA) kicked off the second edition of their Arab Innovation Academy (AIA) on January 2, 2018.
More than 160 aspiring "techpreneurs" from Qatar, MENA, and representatives from India and Russia come together for a single purpose: to help Arab youth build the innovation mindset, entrepreneurial skills, and global network, so they can shape the region's future not only by confronting regional challenges but also by building global market-driven technology innovations with real global impact.
What is Arab Innovation Academy (AIA)?
First of all, let's talk about what is Arab Innovation Academy (AIA). It's a joint effort between European Innovation Academy (EIA), Qatar Science & Technology Park (QSTP). During an exclusive interview with iloveqatar.net, Adha Rashid Al Adgham, Program Manager (Education) at Qatar Science & technology stated that:
"Arab Innovation Academy started its journey in Qatar two years ago. European Innovation Academy has become a recognised leader in tech entrepreneurship education, their non-profit, educational programmes are developed through joint partnerships with professionals from the world's top institutions. On the top that, we know the local market, so we came up with this partnership to provide students across the MENA region a real-world insight into developing and launching an entrepreneurial venture.
AIA, the first and largest entrepreneurship program of its kind in the region, as Adha Rashid said pointed out:
"We had to put lots of efforts to educate universities, to reach students when we launched AIA for the very first time in Qatar. Since the event made a profound impact on everyone who participated in last year, so we received close to 950 application this year from the region and they all competed for 200 seats – no programme in the region has evolved to a great degree in such a short period of time!"
This unique program is aimed at equipping entrepreneurs in the Arab region and global community with the skillset to build their start-up in just 10 days. During the AIA, participants are being introduced to an accelerated mode of experiential learning, including how to develop and launch new tech ventures in a real marketplace, with genuine customer feedback.
Adha Rashid also talked about the process of selecting students for AIA, as she said:
"We have partnerships with some universities from the MENA region, they select the best-suited students to participate in AIA program. On the other side, some universities are not active in the entrepreneurship programme yet, but many students are really eager to join in the AIA programme. In that case, the students can still apply and we select them based on a couple of facts which mainly include their English skill and how passionate they are on the entrepreneurship journey."
During the opening of the AIA, Yosouf Abdulrahman Saleh, Executive Director, QSTP remarked, "Here, at QSTP, the initiatives we have taken and the projects we are engaged in revolve around our commitment to the process of research, development, and innovation. With leading programs like AIA, we encourage our talented youth to take the next step and propel their ideas to the stage of practical implementation.
"We aim to develop an innovative mind-set among our talented youth to nurture an unprecedented and competitive environment in the MENA region. More importantly, we believe that investment in our region's talent pool is the key to achieving long-term economic sustainability and prosperity."
As part of the AIA initiative, participants are set to be introduced to cutting-edge methods and tools related to the entrepreneurship journey, from team formation and ideation to pitching venture capitalists and angel investors, tactics that are accredited by leading global universities, and endorsed by QSTP, Google, and Amadeus
The program also acts as a bridge for young "techpreneurs" in Qatar to become extended members of EIA's global network, and benefit from a valuable mentorship and support system that includes industry experts at the heart of its foundation.
Qatar Science & Technology Park (QSTP), a member of Qatar Foundation, is a Free Zone, accelerator, and an incubator for tech-product development in Qatar. The park fosters an innovation and entrepreneurship ecosystem in Qatar that works to accelerate commercialisation of market-ready technologies to realise Qatar's national diversification drive.
Located in Qatar Foundation's Education City, QSTP has access to the vital resources of a cluster of leading research universities. As Adha Rashid said:
"We have a special programme for students which is a tour to Silicon Valley – the world's leading hub for innovation and technology development. Additionally, we have a tour for visiting some of the world's most innovative companies as well as new technology startup ventures – where students meet successful entrepreneurs meet from all over the world, get to know about their struggles and success stories and indeed it's a life-changing experience!"
Besides this, we have Free Zone benefits for entrepreneurs which include 100% foreign ownership, tax and duty-free import of goods, unrestricted repatriation of capital and profits and much more!"
"We have also Dojo program – a three-month investment program that provides intensive one-on-one training and mentoring," she added.
She concludes saying that: "We want to encourage more businesses in technology, therefore, to build a sustainable business environment through entrepreneurship and innovation, we provide all these ground-breaking programmes for free!"