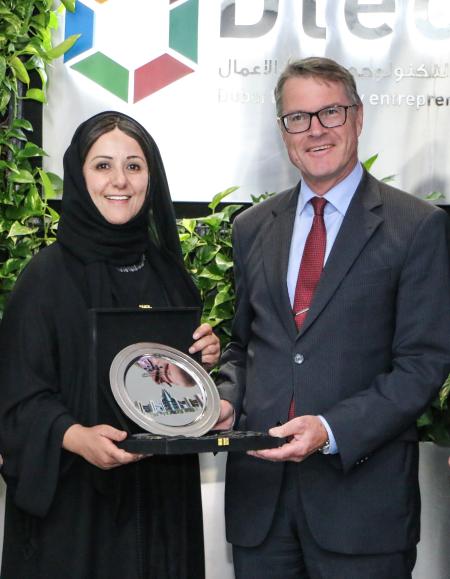 Members of German Parliament and German Consul General in Dubai visit hi-tech park, gain insight into DSOA's digitalization strategy
Dubai Silicon Oasis Authority (DSOA), the regulatory body for Dubai Silicon Oasis (DSO), the integrated free zone technology park, today received a high-ranking German delegation led by Hansjörg Durz, Member of the German Bundestag. The meeting at the Dubai Technology Entrepreneur Campus (Dtec), in the presence of German Consul General Guenter Rauer, explored opportunities for collaboration and knowledge-sharing in enabling seamless digitalization and shaping smart cities.
Spotlighting the startup ecosystem at DSO, the discussions focused on best practices to support and nurture entrepreneurs, particularly within the fintech segment. Welcoming the German delegates, Shahla Abdul Razak, Deputy CEO of DSOA accompanied them on a guided tour of the hi-tech park and briefed them on the favorable infrastructure and investment opportunities that have benefitted several multinational companies from around the world.
Speaking on the occasion, Shahla Abdul Razak said: "DSOA is at the forefront of Dubai's digital transformation efforts, and we are very pleased to share our experiences with the members of the German parliament. Our meeting highlighted the complete spectrum of services offered by DSOA towards empowering businesses to thrive in a technology-first environment. We discussed various opportunities for collaboration that could benefit enterprises, startups, and investors from both the UAE and Germany. DSOA is committed to continuing this dialogue and ensuring a mutually beneficial partnership in the years to come."
DSOA consistently collaborates with government entities to facilitate their technology readiness. In 2018, the Authority teamed up with the Department of Economic Development in Dubai, as well as the Smart Dubai Initiative and IBM to create the Dubai Blockchain Business Registry – a unique initiative aimed at streamlining the process of establishing and operating a business in Dubai, as well as ensuring regulatory compliance to enable firms to secure foreign direct investments.
For his part, Hansjörg Durz said: "We are extremely pleased to visit DSO and learn more about its successes in implementing a world-class digitalization strategy. As we see a new wave of fintech innovation in Germany, our focus today is on amplifying the reach and impact of these startups. We are keen to explore and build synergies in the emerging technology domain with smart cities such as Dubai. In collaborating with DSOA, we look forward to enhancing ongoing efforts to strengthen trade and technology partnerships between the UAE and Germany."
DSO is home to more than 50 German companies. Among these companies are SAP, the world leader in enterprise applications that is considered the world's third largest independent software manufacturer, Fidor Solutions, the innovative provider of digital banking solutions that helps banks launch and run their own digital brand, Porsche's Middle East and North Africa regional headquarters that offers regional training for its experts, engineers, and technicians; as well as Henkel's regional headquarters that operates as an innovation center (R&D) for the region.
A wholly-owned entity of the Government of Dubai, the free zone technology park caters to large enterprises as well as medium and small companies looking to set up their offices in Dubai.