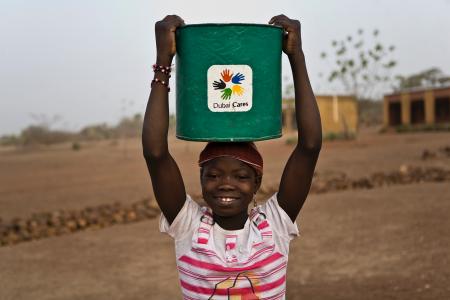 6 million people in 29 countries benefitted from Dubai Cares' educational programmes
5 million participating students in the 2018 Arab Reading Challenge
1 million students accessed Madrasa e-learning platform in its first three months
Dubai: The Mohammed bin Rashid Al Maktoum Global Initiatives (MBRGI) announced that 41 million people across the world have benefitted from its Spreading Education & Knowledge initiatives and programmes that amounted to AED 628 million in 2018.
Spreading Education & Knowledge is one of the five pillars classified under the umbrella of MBRGI, besides Healthcare & Disease Control, Humanitarian Aid & Relief, Innovation & Entrepreneurship and Empowering Communities.
Projects, programmes and initiatives dedicated to spreading knowledge and education reached people worldwide, with Dubai Cares programmes supporting 22.6 million people in 39 countries, while the Arab Reading Challenge for 2018/2019 round drew 13.5 million participating students across the Arab world. Madrasa e-learning platform, launched in 2018, benefitted 1.1 million students in the first three months of its launch through its 5,000 free Arabised science and math videos, designed in accordance with the latest international curricula, for 50 million Arab students. MBRGI has also awarded 115 scholarships, fellowships and seed grants.
The Spreading Education & Knowledge pillar is dedicated to providing quality education for millions of children and young adults in less fortunate communities. Through different entities and projects, MBRGI seeks to develop educational systems, especially in the Arab world, and advance educational tools to help communities keep pace with rapid technological changes.
Through facilitating necessary resources to create innovative and high-quality school environments, MBRGI seeks to break the cycle of poverty and overcome economic and social constraints, reflecting the Foundation's overarching mission to support long-term stability.
His Excellency Saeed Mohammad Al Eter, Assistant Secretary-General of MBRGI, said, "The foundation continues to implement sustainable projects with aims to improve the lives of vulnerable communities through knowledge and education." He added that the foundation's work embodies the vision of His Highness Sheikh Mohammed bin Rashid Al Maktoum, Vice President and Prime Minister of UAE and Ruler of Dubai, that places central focus on spreading knowledge and education to empower people to become active contributors in building their communities.
Al Eter added that the MBRGI projects and programmes aim to make education accessible for all, enabling vulnerable communities to stay up to date with the rapid technological changes. The Madrasa e-learning platform, he said, was launched to achieve the foundation's vision in enriching the online Arabic content to bridge the knowledge gap facing educational institutions due to poor infrastructure and lack of resources. The platform was the latest, and eighth, entity to be added under MBRGI's programmes within the Spreading Education & Knowledge pillar.
Al Eter said Madrasa provides an advanced educational tool to develop skills and introduce a new method of learning that copes with rapid shifts in global educational systems.
On its part, Dubai Cares has continued its efforts to transform the educational systems and ensure access to quality education is available to children and youth in the most underprivileged communities around the world.
His Excellency Tariq Al Gurg, Chief Executive Officer at Dubai Cares, said, "We also continued to drill down into serious and challenging issues affecting the world today and have introduced new innovative programs that prepare girls for the 21st century skills, ensure youth have relevant skills matching the job market and strengthen school leadership."
He added, "We have come to a point where we are witnessing at large how these children and youth, equipped with education, are influencing positive change within their societies. However, the task at hand is massive, and unless we dedicate ourselves to it and work hand in hand, it will grow and become more challenging."
"This is why being part of Mohamed bin Rashid Al Maktoum Global Initiative is so important and invaluable for us. It ensures that the effort is collective, integrated, impactful and sustainable," said Al Gurg.
Efficient school environments
Dubai Cares continued to play a key role in ensuring quality and inclusive education to empower the vulnerable and improve lives of less fortunate communities. The Organisation has worked towards improving children's access to basic education in developing countries, expanding its scope over the last years to include secondary education and youth empowerment.
Dubai Cares initiatives benefitted more than 22.6 million people in 39 countries in 2018. It expanded its educational and developmental programmes in 2018, with focus on youth and girl empowerment, to four new countries: Ecuador, Guatemala, Honduras and Nicaragua.
Dubai Cares also launched 24 new international programmes that comprised constructing and renovating 2,029 classrooms and schools, training 118,873 teachers, building 6,055 school bathrooms, and providing meals for 484,490 students. In addition, it helped provide intestinal worms prevention to around 16 million children, including 15.3 million in India and 690,654 in Vietnam.
Youth and Knowledge-based Economy
Under the theme 'Youth and the Future of the Knowledge Economy,' Mohammed bin Rashid Al Maktoum Knowledge Foundation (MBRF) organised the fifth edition of the annual Knowledge Summit in 2018, to highlight the dimensions and fields of the knowledge digital economy and discuss the role of youth in building knowledge-based societies.
The Summit aligns with the UAE's objectives to build a knowledge-based economy and support innovation and creativity. It also supports the UAE National Agenda for Youth, which seeks to provide young Emiratis with opportunities that enable them to use their skills to serve their communities and ensure sustainable development.
The Knowledge Summit attracted 109 speakers in 48 sessions, holding 130 discussions in 2018. The annual gathering, which brings together the most prominent and influential figures in
the field of knowledge, recorded 19,000 attendees and live stream followers, with youths exceeding 60% of the participants.
Knowledge Support Awards
Cementing Dubai's leading position on the knowledge map, the Mohammed bin Rashid Al Maktoum Knowledge Foundation (MBRF) has continued to honour individuals or organisations with impactful contributions to fields of knowledge and science through initiatives such as the 'Literacy Challenge'.
The Knowledge Summit 2018 honored winners of the previous year's 'Literacy Challenge,' which launched to educate 30 million illiterate Arab youth and children by 2030 and compensate for the missed opportunities of formal education, and build youth capacities, knowledge and skills to effectively respond to the growing challenges of new technologies and the information age.
A UN Knowledge Partner
In 2018, the Mohammed bin Rashid Al Maktoum Knowledge Foundation received special recognition from the United Nations Development Programme (UNDP) as a 'Knowledge Partner', the first recognition of its kind to be dedicated to an Arab knowledge organisation.
In 2018, the Mohammed bin Rashid Al Maktoum Knowledge Foundation launched the first 'Arab Innovation Forum', a platform that brings together innovators, companies and organisations in the Middle East and North Africa to showcase their innovations and discuss relevant topics. Attracting over 1,500 participants, the forum supported 112 Arab start-ups and hosted 10 specialised workshops and 20 panel discussions that addressed innovation-related topics. It honoured 14 innovators and entrepreneurs in six innovation sectors: technology, energy and sustainability, financial services, healthcare, smart government and transportation.
Knowledge Initiatives and Programmes
The #Bil_Arabi (In Arabic) initiative continued to organise events in 2018 to enhance the status of Arabic as a global language through social media, especially among youth. The initiative took its mission to promote Arabic language use beyond the borders of the UAE with the participation of countries such as Bahrain, Egypt, France, Italy, South Korea and Singapore.
'Dubai International Program for Writing' is another MBRF initiative that aims to encourage and empower talented young Arab writers. In 2018, 35 authors graduated from the programme after receiving special training to develop their professional writing skills. The programme resulted in 33 graduate works, including novels, children's literature and short stories, further enriching the Arabic library.
In partnership with the Mohammed bin Rashid Al Maktoum School for Communication Scholarship and the American University of Dubai (AUD), MBRF also awarded 85 outstanding Arab media students with journalism scholarships in 2018, including 17 graduates and 10 new students.
Humanitarian art exhibition
MBRGI is currently organizing a humanitarian art exhibition in Dubai Mall, from May 19-31, showcasing its inspiring 2018 achievements through the five pillars of work: Spreading Education & Knowledge, Healthcare & Disease Control, Empowering Communities, Innovation & Entrepreneurship and Humanitarian Aid & Relief.
Inspiring stories
Story 1:
Reading in Poor Vision
In the prime of her youth, Farah Al Khamiri from Tunisia gradually began losing her sight from the sixth grade due to a weakening of her corneal tissue. Her condition did not stop her from competing in the Arab Reading Challenge, using her mother's help to read to her.
Al Khamiri's mother said books have given her daughter hope and strength to fight through her visual impairment.
Munir Boulami, the challenge's coordinator in Jendouba, Tunisia, said: "Farah was born a creative girl with a strong will to challenge any physical or psychological barriers".
Speaking of her experience, Al Khamiri said: "With will and determination, I continue my journey. I want to be an active part of society." She added that "reading has made me a stronger person and taught me to be who I am today, to always pursue my hopes and aspirations. Life has taught me that dreams can come true only through diligence and hard work. My life motto is: 'The best is yet to come'."
Al Khamiri always dreamed of being a police officer, though she realises that her condition might make her dream difficult to achieve. Thanks to the Arab ReadingChallenge team, Al Khamiri fulfilled her dream of becoming a police officer for a day when she donned the uniform and rode in a patrol car during her visit to Dubai to attend the challenge. She said: "The experience has given me a sense of pride and confidence that I can pursue my dream."
Story 2:
Determination Defies Disease
Hailing from the city of Yatta in Palestine, 9-year-old Ayed Al Jundi was unable to attend the Arab Reading Challenge semi-finals in Dubai due to his ailing health.
Despite having to undergo kidney dialysis, Al Jundi managed to read 50 books to qualify for the finals in Palestine.
Al Jundi said his love for reading gave him the strength to participate in the challenge.
He spends his travel time between Yatta and the hospital in Jerusalem reading books, making his treatments and the long time spent in dialysis bearable. The ambitious boy said he derives his persistence from his mother, who has been his companion in his journey of therapy and reading.
Al Jundi received a special recognition from the supervising committee when he attended the Arab Reading Challenge award ceremony in Palestine. His persistence and quest for knowledge during the difficult circumstances has made him a role model for his generation.
Of his ambitions, Al Jundi said: "I want to be at the top, and reading is my gateway to the best opportunities in life."