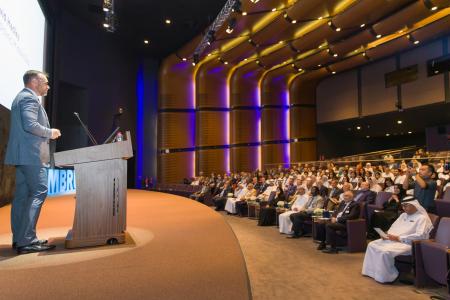 Ceremony held to mark next stage of students' medical education
As part of an affiliation agreement between Mediclinic Middle East and Mohammed Bin Rashid University of Medicine and Health Sciences (MBRU) for the training of medical students, the first group of 49 fourth-year medical students was yesterday welcomed to Mediclinic Middle East in an inaugural ceremony which marked their arrival and celebrated the progression of their studies.
The students will now commence their clinical clerkship in Mediclinic Middle East's hospitals and clinics in Dubai, joining the departments of Family Medicine, Surgery, Paediatrics, Internal Medicine and Dermatology in rotation over a 40-week period per year. Once they have completed their full six-year course, including their clerkships at Mediclinic, students will have attained an MBBS degree and be eligible to enter a UAE residency programme or undertake postgraduate studies overseas.
Professor Alawi Alsheikh Ali, Dean of the College of Medicine at MBRU said, "We are very proud of our students who have worked hard over the past three years to be ready for this phase of their learning experience at MBRU. We are fortunate to have a strong and mutually beneficial affiliation with Mediclinic and the Ministry of Health and Prevention who have been very supportive of the educational journey of our students. Together, we are working towards advancing the academic care model in Dubai and the UAE."
Dr. Leon Du Preez, Senior Corporate Medical Director at Mediclinic Middle East and Honorary Associate Dean for Academic Partnerships said: "We are delighted to welcome this first group of students as part of an affiliation with MBRU which I hope will last for many years. Working together in this way, we are able to support the United Arab Emirates' long term vision of training the next generation of doctors and medical professionals for the challenges posed by a rapidly evolving healthcare landscape."