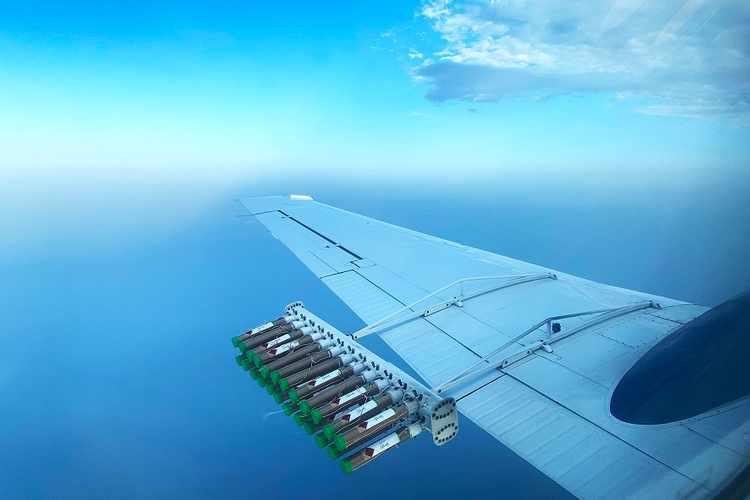 The tests will determine whether the new materials will work in reality
The UAE has started a new campaign that uses innovative new cloud seeding materials to create more rainfall in the country.
The new initiative launched by the UAE Research Program for Rain Enhancement Science includes dispersing refined nanomaterials through flights into the clouds to boost water condensation.
In the campaign lead by National Center of Meteorology (NCM), a bespoke Learjet research flight with sensors and measurement probes to gather data, is deployed to cloud formations over the Northern Emirates and east regions. Specially designed shell composite nanomaterial are then released into the clouds through flares, NCM said in a statement.
Linda Zou, a professor at Khalifa University and one of the three awardees of the programme's first round of grants in 2016, said nanotechnology could bring better results.
"Nanotechnology opens up the possibility of engineering unique cloud seeding particles to make the process of water condensation and rain precipitation more efficient."
The tests will determine whether the new materials will work in reality.
Until now salt crystals have been used with some success. But experiments have suggested the material has a "much higher ability to initiate condensation of water vapour and droplet growth" in the clouds than the salt crystals currently used, NCM said.
Dr Abdulla Al Mandous, Director of the NCM & the President of the Regional Association II in the Asia Region, said: "The highly creative work undertaken by Professor Zou's team has progressed to the extent that the groundbreaking materials developed are ready for field testing and potential large-scale production."
"This result demonstrates how NCM through the Program is succeeding in attracting significant participation from leading international scientific experts and helping to boost water security for those at risk around the world," he added.
According to NCM, cloud seeding has helped to increase the chance of rain in the country up to 30 percent. It conducts cloudseeding during summer as well.
"The types of clouds are different during winter but there are towering clouds over Al Ain, Ras Khaimah and Fujairah that we can use for cloud seeding. We track the clouds to make sure that we hit it at the right time and right place so rain will fall in the UAE," Khalid Mohamed Al Obeidli, head of cloud seeding at the NCM had said in June.
The UAE cloud-seeding program started in the 1990s.
The UAE Research Program for Rain Enhancement Science oversees a $5 million project to encourage innovative ideas to develop techniques to improve the efficiency and predictive capabilities of targeted cloud seeding operations.