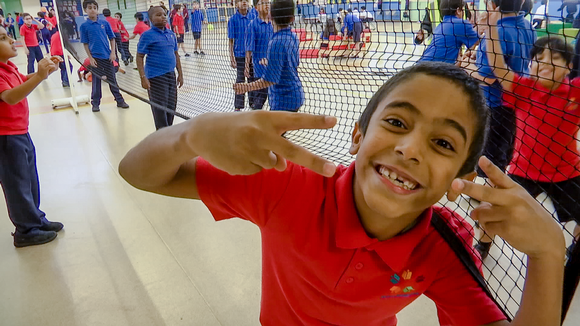 Pupils will soon be able to complete upper secondary school, making it the first such institution outside of Finland.
The Finnish International School in Doha, Qatar offers English-language tuition to roughly 700 students based on the Finnish school curriculum.
According to vice principal Hanne Patomäki, the school was the brainchild of Mozah bint Nasser, the wife of the former Emir of Qatar, who became interested in Finnish education years ago. After visiting Finland she set about establishing a Finnish school in Doha.
Educluster Finland, an education lobby group headed by the University of Jyväskylä, seized the opportunity and collaborated with the education ministry in Qatar to get the school off the ground in 2014.
Like many other schools, educators encourage students to be active. However in the searing summer heat when daytime highs soar to 40 degrees Celsius, children spend their study breaks indoors.
They play ball games, dance and play tag in a large air- conditioned hall for as much as half an hour. Voices ring out and it is possible to discern Finnish, Arabic and English in the melee.
"Our language of instruction is English. The curriculum is Finnish but we have made some additions of course, such as Qatari history, Arab and Islam for Muslims," Patomäki explained.
The school currently accommodates students ranging from pre-school level to the first year of upper secondary school. In a few years, pupils will even be able to complete upper secondary school at the institution, making it the first of its kind outside of Finland.
Better pay than in Finland
The Qatari school has more than 100 teachers and assistants on its payroll – 39 are Finnish while 60 represent other nationalities. Teachers' salaries in Qatar may be double pay packets in Finland – or more.
Employee perks also include generous housing benefits as rents in Qatar range from 1,500 to 5,000 euros monthly. The cost of a rental in a residential area for detached homes with a sports field and pool may come in at 3,000 euros or more.
Funding for the school comes from annual tuition fees, which run from 10,000 to 15,000 euros. The fees are generally paid by the employers of students' parents.
Qatar has received a great deal of negative publicity over scant audiences at this year's World Athletics Championships. It has also come under scrutiny over issues such as women's rights as well as the condition of migrant workers. The conversation will likely continue, given that Qatar will host FIFA's World Cup finals in 2022.
However according to Patomäki the close-knit Finnish community in Doha has been unsettled by the current media focus. She said they also feel there are many positive aspects to the country.
"Our school represents more than 60 different nationalities. I see multiculturalism as a major asset that you can see everywhere. People become more tolerant and open," the vice principal declared.
She noted that Finnish employees have also made friends with many of the parents of local students.
"We have visited, gone out together shopping and to restaurants – we have done exactly the same things that Finnish friends do together. We have been treated politely by officials and in the stores here. At no point have I felt uncomfortable or threatened as a woman," Patomäki observed.
She pointed out that after five years in Doha, many of the local customs have already become part of her everyday life. Her children wear school uniforms and cover their knees and shoulders in public places. However they wear shorts whenever they please in their local community.
"Maybe during the first year you had to think about whether or not it was appropriate to shake hands with an Arab man, for example. Or you needed to remember not to eat and drink in public during the holy month of Ramadan. But these things quickly became part of my own routine," she explained.