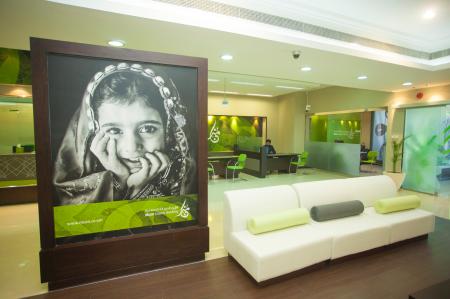 Muzn Education Finance is based on the Islamic principle of Service Ijarah.
Muzn Islamic Banking recently launched its Muzn Education Finance to assist aspiring individuals to achieve their educational goals. An affordable and Shariah compliant product, students can now get financing for college and university degrees and diplomas in addition to short term educational programs offered by local and international institutions.
Salima Obaid Issa Al Marzouqi, Acting Head of Muzn Islamic Banking said, "Quality education can never be compromised particularly in today's competitive market. At Muzn, we understand that costs can be high but that should not prevent anyone from pursuing a degree or finding the right school for their children. Muzn Education Finance is a viable solution that can help bridge the gap that many families and students need for financing their education. The return on invest is high, not only are we contributing to the development of local talent but are impacting economic growth, job opportunities and innovation."
Muzn Education Finance is based on the Islamic principle of Service Ijarah. The Bank acquires the service from the educational institution, school or university of choice, provided they fulfill the bank's set criteria and terms of conditions. The institution is then appointed to provide educational services to the customer for a service cost paid by the Bank upfront. Subsequently, Muzn Islamic Banking leases the services for a price to be paid in installments by the customer to the bank. This product is available for citizens and residents living in the Sultanate.
Established in 2013, Muzn is the Islamic Banking window of the National Bank of Oman, and is the first Islamic Banking window in the Sultanate. Muzn bases its operations, products, and services on the banking and trading principles of Islam: "Qardh", "Mudarabah", "Ijarah", "Murabaha" "Wakala" etc. Its network footprint includes six strategically located branches as well as market-leading internet and mobile banking platforms. Muzn retail customers can avail a full range of products and services including savings, current accounts, home and auto finance, in addition to a number of Wakala investment products. Corporate customers can benefit from Musharakah financing, term finance, trade finance, treasury services, and working capital finance.