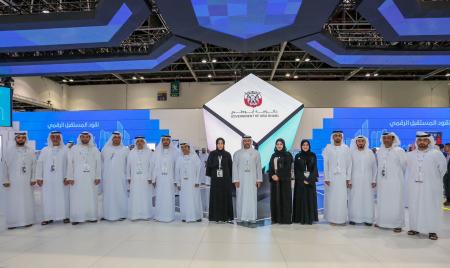 In line with the move to consolidate Abu Dhabi Government Services' 'TAMM' initiative
New online portal reflects department's efforts to facilitate procedures for customers to enable an easier and flexible experience
Al Hajeri: We aim to provide smart government services through a common platform in line with Abu Dhabi's move towards digital transformation
Dubai: The Abu Dhabi Department of Economic Development (ADDED) successfully launched its new website ( www.added.gov.ae ) during the 39th edition of GITEX Technology Week, the biggest tech show in the Middle East, North Africa and South Asia (MENASA), which kicked off on October 6 and runs until October 10, 2019 at the Dubai World Trade Centre (DWTC).
The new web portal offers a variety of smart services that have been developed to help businesses, investors, consumers and customers. The move falls in line with the continuing efforts to help achieve the strategic goals of Abu Dhabi's digital transformation process.
The launch complements the department's efforts in raising the standards of offered government services, including smart electronic services that meet set international standards that contribute to facilitate the customers' journey by offering them an ease-of-doing-business and faster access to information about ADDED's services.
The new website features business, industrial and economic activity licensing packages, in addition to a number of interactive and electronic services that have been formulated to address the needs and requirements of customers. These services include the Instant license, Tajer Abu Dhabi, Dual license, 'All-In-One Bundle,' Tech Licenses Initiative and other licenses that contribute to enhancing ease of doing business in Abu Dhabi in line with the objectives set forth in the Abu Dhabi Development Accelerator Program, 'Ghadan 21'.
His Excellency Saif Mohamed Al Hajeri, Chairman of ADDED, said, "Our participation at GITEX Technology Week 2019, demonstrates our continuing commitment to enhance cooperation and partnership with various government entities in the move to provide leading services and facilities to investors and businessmen."
Al Hajeri further stated that ADDED's participation at GITEX is part of the Abu Dhabi Government Pavilion, which is headed by the Abu Dhabi Digital Authority (ADDA) and falls in line with its keenness to launch initiatives that provide innovative and smart services that contribute to achieving Abu Dhabi's strategic directives towards digital transformation.
H.E. emphasized that the launch of the new ADDED website, which is being done in cooperation with ADDA, provides a common electronic platform that facilitates the procedures of obtaining their documents at a faster time. The new website falls in line with the Abu Dhabi Government Services Program, 'TAMM,' which aims at aligning the directives of digital transformation and unifying government services in Abu Dhabi through a single, innovative platform comprising of several local government entities.
Al Hajeri praised ADDA's outstanding efforts, which are aimed at enhancing the level of services and facilities provided by Abu Dhabi government entities to investors and businessmen. This reflects the emirate's future vision in enhancing the role of digital transformation and joint government services.
ADDED remains continuously committed to developing and implementing initiatives and services that provide the needed support to investors and businessmen in establishing their businesses in Abu Dhabi, while also attracting more foreign investments into the emirate and thereby enhance its global competitiveness.
The Abu Dhabi Business Center of ADDED offers a bundle of smart services related to the procedures of doing business and other economic activities. The ADBC platform within ADDED's website provides a range of services like the Instant license, Tajer Abu Dhabi, the 'All-In-One Bundle,' and other licenses that have been launched to establish an ideal business environment in the region that is attractive for investments.