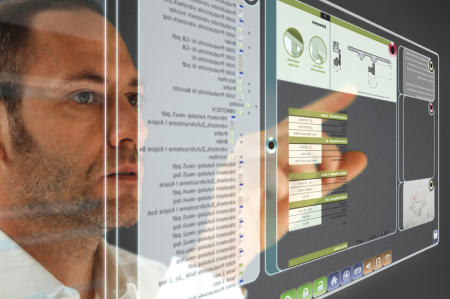 AnaApp Serves as Repository for an Entire University Software Catalog Benefiting Researchers and Academic Sector Stakeholders
Ankabut, the Emirates Advanced National Research and Education Network, an initiative of Khalifa University of Science and Technology, today announced the official launch of AnaApp (Applications Anywhere, Anytime, Any Device), a first-of-a-kind application virtualization platform that serves as a repository for a university's entire software catalog, benefiting researchers and academic sector stakeholders in particular and others in general.
Ankabut, in cooperation with Software2, incorporated a large array of added applications in AnaApp which is already fully operational, currently serving Khalifa University in the UAE and more are expected to sign up in the coming weeks. Stakeholders in the research and academic communities can access or work on the software on-demand while in the cloud or download their applications to their devices regardless of the operating system for easy access and for completing core and non-core tasks.
AnaApp also offers access to scores of academic-related and professional programs including MATLAB, SolidWorks, ANSYS, and Adobe.
Fahem Al-Nuaimi, Chief Executive Officer, Ankabut, said: "We are delighted to announce the official launch of AnaApp, the first-of-a-kind cloud-based application virtualization platform that has already become fully operational, offering academic institutions and universities multiple benefits. It can be remotely accessed, thus providing researchers and academics the easy mobility and the ease of working from any location. As a pioneer in offering reliable and secure connectivity in the Arab world, Ankabut is proud to add AnaApp to its existing range of services, while looking forward to increasing our dedicated offerings in the near future."
In the cloud domain, Ankabut currently operates and connects more than 30 different universities in the UAE while more are expected to become part of the network in the coming months. In the managed services area, Ankabut provides support to all IT aspects such as network monitoring, security, backup, and disaster recovery service. It also facilitates seamless connectivity so that classes held anywhere in the world can be aired in real time in the UAE.
Ankabut also provides dedicated, unconstrained network connectivity for eligible research and educational institutions throughout the country. At the same time, Ankabut's Disaster Recovery guarantees quality performance and protection without interruption that provides privileges including customized solutions, security, and core business focus, reduced downtime and 24/7 operations.
Additionally, Ankabut provides a unified Learning Management System across the UAE to enable educators to drive student development through innovative advanced digital classroom abilities, while introducing a conducive and structured information exchange environment for integrating students, parents, teachers and the administration of schools, colleges or universities.
The first network to be IPv6-enabled in the Middle East region, Ankabut delivers four major technology services categories to provide over 20 education technology services for developing a collaborative approach to research and education in the UAE and the region. Managed by Khalifa University, the Ankabut is jointly funded by the Telecom Regulatory Authority (TRA) through the ICT Fund and Khalifa University.