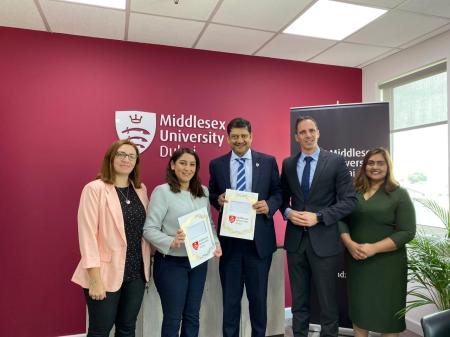 University's Careers and Employability Service (CES) enhances skills and employment opportunities for students.
In its continuous efforts to enhance the educational experience and employment opportunities for students, Middlesex University Dubai signed a MoU on 16 December 2019 with Education for Employment (EFE), a global nonprofit leading the way in youth training and employability across the Middle East and North Africa (MENA).
Finding synergies in its goals of education, training and creating economic opportunities for youth in the region, the collaboration aims to empower the youth to create a bright future for themselves and the community at large.
Speaking about the collaboration, Dima Najim, Managing Director-UAE, Education For Employment (EFE) said, "Over the past ten years, Education For Employment has trained more than 100,000 youth and linked them to economic opportunities, and today we are honoured to partner with Middlesex University to provide its students with skills they need to realise their potential."
The first phase of the collaboration will begin early 2020 that will help 200 Middlesex University Students enrol in Emplea+ online soft and digital skills training for the academic year. Developed by Accenture experts, the online training platform will help increase digital literacy, boost employability and prepare them to enter the workplace with confidence.
"Through this partnership, Education For Employment and Middlesex University will utilize the digital and employability skills training platform developed by Accenture to equip students with the basic and in-depth knowledge that is vital to increasing their employability and preparing them to the job market," added Dima Najim.
Along with 'Digital Knowledge', students will also be trained in five other essential employment competencies: Mathematical Reasoning, Communication, Self-confidence, self-control, rules and tasks.
Begoña Águeda C. de Albornoz, Corporate Citizenship Lead – Middle East and Turkey, Accenture MET said, "Seeking to make a positive impact in the communities where Accenture operates, our organization needs to rely on partners such as Education For Employment to deliver the skilling activities to enhance the employability of local talent in the region."
"Collaborating with academic partners such as Middlesex University will enable Education For Employment from providing soft and digital skills training to young people in the UAE that they become future-proofed for the job market to come. The proved impact record of these programs across the MENA region makes it a unique tool to support SDGs No. 5 and 10,"
"We are pleased to collaborate with EFE as both institutions have the interest of the youth in mind as they pave the way to help them realise their dreams and back them with the necessary education and training required to achieve their true potential," said Dr Michael J. Kloep, Head of the Institute for Entrepreneurship and Business Excellence at Middlesex University Dubai. "We look forward to an action packed and successful years ahead, as we move along with the United Arab Emirates towards the future, empowering the ones who will lead it – The Youth."