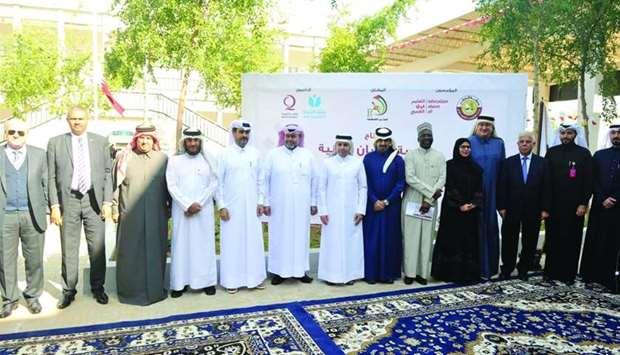 The "Second Ihsaan School" for Arab communities in Qatar opened in Doha Sunday.
The school has been established in partnership between the Education Above All Foundation (EAA) and the Ministry of Education and Higher Education to provide appropriate opportunities for children and youth of both sexes, from the Arab communities residing in Qatar, who have been deprived of education for various reasons.
Children attending a class at the school
HE the Minister of Education and Higher Education, Dr Mohamed Abdul Wahed Ali al-Hammadi, expressed his pleasure at the opening of the school, which he said reflects Qatari institutions' keenness to fulfil their social responsibilities to provide free education opportunities, and noted that "Ihsaan II" is the second under the initiative. The first was opened last year for Asian communities.
The minister said that EAA plays a great role in communicating its educational mission all over the world, and especially for those residing in Qatar whose countries suffer from different condition. Its aim is to ensure that no child in Qatar is outside the education system.
He pointed out that the ministry has provided the building for the school and many services such as maintenance, security and academic supervision, noting that the school's board of trustees is concerned with appointing the teaching staff, school administration and other operational matters.
For his part, CEO of Qatar Charity Yousef bin Ahmed al-Kuwari said that quality education is one of the most important pillars of development of societies and nations, and the fourth goal of the 2030 sustainable development goals agreed upon by the countries of the world.
He pointed out that education is one of the most important fields in which Qatar Charity operates as an international humanitarian and development organisation, whether by building educational facilities and training centres, or providing sponsors for students and teachers.
He explained that Qatar's total spending on education and culture from 2014 to 2018 reached about QR766mn, which benefited nearly 2.5mn people in 50 countries around the world.
The CEO of QC added that in seeking to contribute to the achievement of the Qatar 2030 vision, "We have done everything we can to support the Ihsaan Schools initiative in co-operation and partnership with the Ministry of Education and Higher Education and the Education Above All Foundation.
EAA programmes director Mariam al-Mannai said the foundation has launched a programme designed for children to ensure that they have equal access to quality education. The initiative was upgraded on January 1, 2017 as a programme that seeks to reach children who have not previously been enrolled in a school.
Al-Mannai appreciated the role of the Ministry of Education and all those who support their efforts and contributions in making these programmes a reality, confirming their commitment to work on the right to education for all children in Qatar.
Management Co-ordinator at Afif Charity Foundation Bilal Rashed al-Ukidi said the Afif Foundation is one of the parties involved in establishing and operating this institution, which is in conformity with its approach based on supporting and financing education, health and economic empowerment projects that the Foundation considers to be essential areas for building a person and ensuring his life and prosperity.
He expressed his happiness at the inauguration of this school, which offers free education to the needy residents of Qatar.
For his part, Ihsaan School supervisor, Dr Yahya al-Agha said that Ihsan Schools were established for needy children whose countries are going through difficult circumstances. The schools were established in co-operation between the Ministry of Education and Higher Education, The Education Above All Foundation, Qatar Charity and Afif Foundation.
He said that the school currently has 482 students. Explaining that the school adopts the Qatari curriculum and is completely free of charge, pointing out that it receives all Arabic speaking nationalities according to specific controls, while non-Arabic speakers have the first Ihsaan school.
The Second Ihsaan School, established on 6,000sq meters, can accommodate 12 classes and employs about 48 teachers and administrators.
Al-Agha praised the idea of establishing Ihsaan schools and its role in providing distinguished education for children who have been out of school for various reasons, most notably the wars in their countries.